Foreclosed Properties Are Fertile Grounds for Proliferating Stagnant Green Pools
Filed Under Repo Houses | 5 Comments
In the foreclosure infested regions of USA like Las Vegas the foreclosed properties are fertile grounds for sprouting green stagnant pools.
In the dry southwest swimming pools were, till the other day, symbols of status – of having achieved something to show off. But with neighbourhoods becoming ghostly and vacant, thanks to foreclosures, these once sparkling pools are now covered with algae and playing host to mosquitoes.
Some officials are tackling the mosquito menace with containers of silvery fish. The men approach the repossessed houses. From afar they can get the fetid smell of stagnant pools. The fish are thrown in to the slimy water with the throwers being careful to see that the muck does not splash on to them.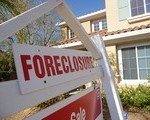 Robert Cole specializes in environmental health of the health district of southern Nevada. He essays forth with a team of six trying to prevent the pools from becoming health hazards. Recently the complaints about green pools in Las Vegas have jumped from 1,600 in 2007 to 2,800 in 2008. In 2009 the health department has already received 500 complaints from January to March showing an 80% increase from the numbers during the same three months in the previous year. There are no signs that the complaints are abating with Nevada having the highest foreclosure rate in the first quarter of 2009. The problem of pools covers the entire west coast.
Chris Conlan vector ecologist of San Diego County is in charge of stating weekly helicopter flights to track the toxic pools.
The three worst foreclosure hit states of California, Arizona and Florida depend on mosquito fish known as Gambusia affinis. The creatures are about one inch long and can live in fetid water for many months. For them the wiggling larvae mean a buffet spread.
In northern California officially nearly 2 million fish are bred in a year. Many residents take them back home in coffee cans. The Mosquito and Vector Control department of the district has also gone online to offer their services and make themselves known to the people. The general manager of the district Craig Downs said, "In the past, you'd just tell homeowners to take care of their backyards. But in the last two years, nobody's been home."
In Arizona's Maricopa County that is inclusive of Phoenix there have been 14,000 pool related problems this year said John Townsend the manager of vector control. He quipped they will need a sea of fish to tackle the problem.
Popularity: 1% [?]
Comments
---